Wow!...many thanks for all the kind words!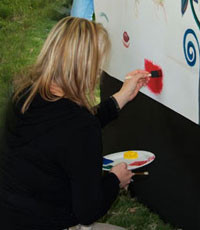 I am so pleased to receive the tremendous amount of positive feedback that all are enjoying the new digital format of Faux Effects World®. This project has been so gratifying to us at FEI, as we transform more and more each day into the digital age. It is so fun and convienent to have access anytime, anywhere--your decorative projects are an inspiration to us all! As many are aware, FEI has launched several new products and color options earlier this year with rave reviews. Take a peek at our Product Spotlight section for more information. Please do not hesitate to submit your projects, both large and small. We'd love to see your projects with these new and exciting Faux Effects® products, and we love to feature "YOU!"
I look forward to seeing your FE projects soon!