ACROPOLIS
When Barb Woodruff got the call to work on a new Greek restaurant, she was thrilled! The Acropolis was going to be the largest restaurant in town, but it was also built on the same lot as her mother's childhood home. Their grandfather once owned over 200 acres of farmland and sold it to a developer back in the 1980s. The area is now the center of Evansville's main shopping district.
The building previously housed "Darryl's" restaurant, which had been closed for over three years.Working with a designer, Barb and her crew transformed an all brick wall into a stuccoed masterpiece. The brick was covered with 265 five gallon buckets of drywall mud, then painted with 35 gallons of SetCoat®—only then was the wall ready to be glazed! Barb mixed AquaCreme™ with Earth Brown, Yellow Ochre, Golden Sienna and Van Dyke Brown FauxCreme Color™ in various amounts giving each area of the restaurant its own personality.
In the main dining area, glaze was brushed on and padded off, then softened with a badger brush to give the walls a warm, worn look. All the arched doorways were left white as a contrast and have aged gracefully.
In the bar, Barb and her crew created a focal point wall using a stencil they cut and accented with hand painted lines. A chip away effect was done around the edges to make it feel like an actual Greek ruin.
The bathrooms were done in a tri-color green Venetian plaster with a tinted top coat.The wood wainscoting was antiqued to look like old, worn wood.
Murals were painted in small areas and alcoves.
The crew painted a Greek Isle blue color on the exposed beam ceiling, and lattice was used with grape vines intertwined throughout.The shutters were distressed, and finally the pictures were hung to finish the project.
The project took three months to complete but the two story, 200+ seat eatery remains a true, glowing masterpiece that continues to, combined with the authentic food, transport customers to Old World Greece!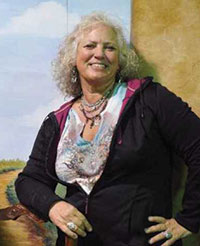 DECORATIVE ART BY: JUST FAUX IT
PHOTOGRAPHY BY: BARBARA WOODRUFF
WRITTEN BY: BARBARA WOODRUFF
If you enjoyed this article, send
it to your friends on Facebook!