"Repeat Customers"
One of the best feelings is when you get that phone call, "Hello Eric, you did our home ten years ago—do you remember us, and are you still in business? I have a new home that I would like you to come take a look at." I reply, "Well, of course I remember you. I am still in business, and I can even come over in about an hour? Would that work for you?" "Come on over," she says.
It starts out with just a few small items, but almost like clockwork, every hour, I would be asked if I could do "just one more thing." Believe me, I am not complaining about this at all. In fact every time I hear that voice, it's music to my ears.Well, five months or so later, we finally packed up our drop cloths with a return ticket for the summer or fall to do more work..
We had completed some extensive work in their previous home. Pictured here is the entryway with a gold leafed ceiling and crème-colored Venetian plaster walls with antiqued trim work. Also, pictured is the master bath from their previous home with faux marble columns and SandStone™ and PlasterTex® glazed walls with antiqued trim.
With the call, I knew this would be another interesting project, which indeed it was. We knew we had a hard act to follow with her master bathroom. Pictured is the master bath from the previous residence that we completed some ten years ago. This time around, she chose a beautiful wallpaper for all the walls. Wallpaper? No problem--there were still plenty of opportunities to seize upon. You cannot give our client too much color! For starters, we applied a beautiful custom-mixed magenta LusterStone® finish to the ceiling. But, the cabinetry stole the show in this bathroom. It was very plain to begin with, but had very interesting applied appliques and ornamentation. We base coated all the cabinets in White SetCoat® followed by a beautiful Pearl FauxCreme® glaze. We then applied gold leaf to different appliques and hand painted the different ornamentations. We even used a clear mother-of-pearl foil for the inside of the shell ornament tomake it look just like the inside of a shell. We do a good amount of cabinetry work, but this was a real treat. It is not often you come across a set of cabinets so unique with a client who is willing to let you have your way with them.
The niche in the foyer was finished with a combination of red foils and mica. By applying the red foil as a background, it created a brilliant glow through the mica once completed. Still being new to the mica revolution, Diane Corso provided some great guidance and insight, helping us create this very unique and one-of-a-kind niche.
Interior Designer Jayne Tessmer of JMT Interiors, who worked with us in creating the different finishes, was shopping for a table for the kitchen area. She found a table that was the perfect size and style but was not in the right finish.
They had the just one more thing. "Eric? Do you think you could make this top look like wood?" "No problem," I replied.
The pictures show the before, during and completed antique walnut top with a distressed off white with touches of blue table base and legs. It turned out great and everyone was happy—a real win-win situation. One of the joys of being in this business is solving problems; this was an example of how, through the art of faux finishing, we turned a lemon into lemonade. I always say, there are no problems only solutions.
Another just one more thing moment came regarding a pine coffee table in the family room. They had picked out a new coffee table for the family room, and the existing pine table needed a new home. A table was needed in the lanai room; but this was a quite unique space with black and white checkerboard painted floors, Mackenzie child accent pieces throughout—just wonderful displays of all the colors in the rainbow in one space. Thanks to the brilliant design and color sense of Jayne Tessmer and our awesome client, it all worked. So, what to do with this pine table? It certainly wouldn't work in this space. "Eric? Could you paint it to look like a Zebra?" Well, there is a first for everything, I thought. "No problem," I replied. Although the pine table was beautiful in its own body, we did some reassignment procedures and turned it into a Zebra. Another interesting "trans-fauxmation" for our Spiegel Catalogue of Decorative Finishes, and another very happy client!
"We are the Burl"
After just completing a project with Jayne Tessmer of JMT Interiors, she introduced us to one of her other clients, who happened to live around the corner from the house we just completed. The home is magnificent, and the work Jayne had done so far was to the nines! But, she felt the space needed our help to fill in some gaps and kick it up a notch or two…or maybe three.
One of the items was a piece that the client and the designer wanted to upgrade. It was stained wood and stenciled previously, but it was not as elegant as they thought this piece could be. It had strong bones but a weak finish. We tossed a few ideas around, and within a few minutes, decided to have a faux walnut burl in all the panels and columns and gold leaf the accent moldings and capitals.We added some grain to the already existing grain which had no character. This was a fun and very rewarding piece to work on. The clients love it, and we love it, too!
One of the next challenges was the living room fireplace. The room is magnificent, but it fell short when it came to this fireplace. So, once again with Jayne's guidance and the clients input, we started sketching out some ideas. Two huge lion sculptures greet you when you pull up to the house, so we thought this could be an element that would work--and we knew the clients liked lions already. Lee Behl and I worked to design the mantle.
I like to work with different artists when the occasion arises. Well, this was turning into quite an occasion. I called in one of the best in the business for this type of project; my friend from the old neighborhood—the very talented Sean Crosby. Sean has done many projects with us in he past, and they are always a success, and we have a ton of fun working together. We both have a similar history working in the painters unions in the city and studying with the Grande Dame of Faux, Ina Marx, along with her son Robert Marx. Sean, along with our crew, completed the mantle, and our clients could not have been happier.
"Bling it on!"
I have to say, I have been enjoying getting my bling on these days. This client had a very contemporary condo unit.We upgraded all the walls and ceilings in the space with a Venetian plaster treatment with a pearlescent wax. This made an amazing background to their amazing contemporary art collection.
The front door was a flush, boring metal door that needed to be "Spiegel-ized" for sure. Having bling on my brain, I started making my samples. After consulting with another one of my bling mentors, Faux Effects® distributor Donna Phelps, I came up with a plan. My mother's favorite stone is opal. I always wanted to somehow find a spot to try to create that look. Well, this was my chance. First, I applied a colorwash of opalescent and metallic colors into a taped out rectangular panel. Then, I rolled on a size and applied mica to the panel. I also, when no one was looking, placed pieces of holographic foil in random spots to produce the fire often seen in opals. It all seemed to work and the client loved it! We then, faux wood grained the rails and styles in a banded satinwood finish.
So that's how it all came together. Now there's the door, but who would ever want to leave this space!
"Foiling Around"
This project reminded me of the commercial "build this house around my faucet."Well, that was pretty much how this powder bath went.The designers had the faucet and sink but not a solid concept for the walls. I have been using foils since the early 90's and had acquired a nice collection in my studio over the years. There was this light teal foil on the shelves just waiting for someone to take it home and adopt it. It finally found the right home, and boy, was it a nice home—the penthouse suite in beautiful Venetian Village overlooking the Gulf of Mexico in the heart of Naples, Florida.
I am a big fan of mixed media finishing, combining different elements and textures for one common cause. First, I applied green foil to all the walls. Then, I took different elements from a stencil I had and created a stripe and damask look. LusterSuede™ was used to create a fabric-like feel to the embossed stencil. Then, a horizontal striae finish was applied to go against the linear feel and created a very silky look. I finished the room off by glazing the ceiling with a soft green to unite the room. So many times the ceiling is not considered an opportunity to add flavor. I consider the ceiling to be the fifth wall of most rooms and always try to include it to help unite the space.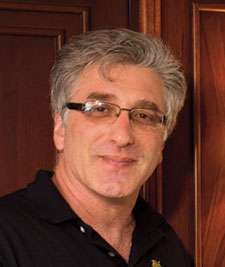 DECORATIVE ART BY: SPIEGEL'S DECORATIVE FINISHES
PHOTOGRAPHY BY: RANDALL PERRY PHOTOGRAPHY
WRITTEN BY: ERIC SPIEGEL
If you enjoyed this article, send
it to your friends on Facebook!