Industry Update
Salon NYC 2017
Faux Effects International Inc was a proud sponsor of the 2017 Salon held at the High School of Art & Design in New York City in April 2017. Many thanks to Arlene McLoughlin and Jeannie Schnupp for all their efforts to make this year's Salon a tremendous success!
Enjoy some highlights the famous gathering of decorative artists from around the globe!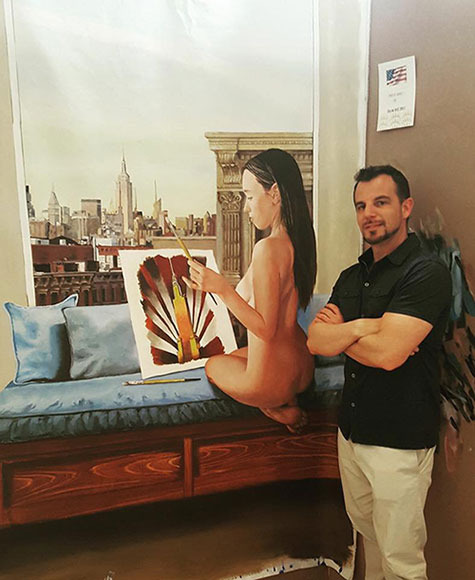 The Salon is a world wide gathering of some of the top artists and decorative painters. It is an exciting and unique art show of masters from different countries who exhibit their work, teach master-classes, discuss old and new techniques, products and information in the field. The Salon is a non-profit organization, which began in 1992 in Belgium with a small gathering of professionals. It reconvened in 1996 and has been coming together in growing numbers every year since. This year's theme is Art Deco.
The Salon is now recognized as the most important and significant gathering of decorative painters in the world. Participants of The Salon include owners and teachers of art schools, businesses, independent and commercial companies. The Salon is a way for some of the most unique traditions, within a field of many styles of art, to be shared amongst one another and ultimately passed onto participants, students and future generations. The opportunity enhances and extends the level of communication between serious and committed artisans, master craftsmen, painters and decorators.
The Salon is also a way for visitors and the outside public to experience the high quality of work present, and meet the real masters of this craft. Ongoing demonstrations and exhibitions allow visitors and participants to view paintings specifically created for The Salon. This is a very unique event and a great opportunity to discover the International world of artists and master craftsmen at it's best.
Faux Design Studio's Annual Spring Fling
This annual free event was held on March 14, 2017 to standing room only! Sheri Zeman broke out the latest design trends, Loft 101 stencils and Faux Effects® products. Hands on demonstrations had the intense attention of all to see what new workshops were being unveiled for 2017.
As always, fun networking, great food and many giveaways including the "Welcome Spring Goodie Box" sponsored by Faux Effects International, Inc. was a huge hit! The lucky winner went home with various Faux Effects® products all featured in "Spring" colors.
Many thanks to all who helped make this sought after event a huge success!