"Crafting Personalities"
Delighted to receive another project call from a favorite client in North Dallas, Texas-- this time to my delight they wanted me to create a wine cellar decorative finish. They contacted me months in advance to ensure my schedule was available for their project before Something Creative relocates to Wilmington, North Carolina in 2017. Something old and layered was requested. Luckily for me I knew Faux Effects International. Inc. had just the right products to enable me to create this organic cave-like feel along with a little organic bling to give it a "wow" effect!
Layers of LusterStone® were applied in drifts troweling multiple colors (some partly blended) and knocking it down over a Camel SetCoat® basecoat and a Brown Suede LusterStone® scratch-coat. Layered LusterStone® colors used in this finish were Brown Suede, Black Diamond, Champagne Mist, and Copper.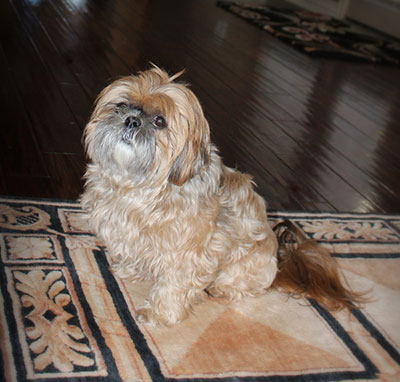 In some areas, small mineral-like drifts were applied using Antique Gold ¼" Mica Flakes and glitter from Donna Phelps's Sarasota School of Faux & Architectural Finishing. Once applied, a bit more LusterStone® was troweled through and knocked down. This is a very forgiving finish which creates and yields a realistic cave-like feel.
Some of my favorite clients have four legged "kids" that keep me company during the decorative finishing process. Here's a little guy that brings a big smile each time I enter the home … Scout.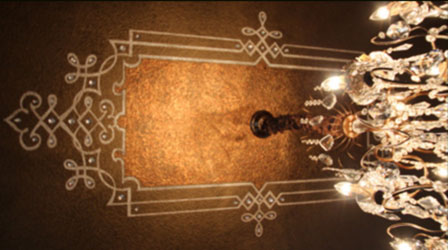 Repeat customers are the best! While creating a powder bath design in another awesome client's home, I couldn't help but see the potential for a "wow" effect in their dining room! The room had already been designed but was missing its crowning touch. A beautiful Modello Designs mask was chosen to complement their gorgeous chandelier. We began with a backdrop of Metallic Bronze SetCoat® followed by applying the decorative mask, Modello Designs Mask FloPan 112, which was slightly altered.
On the inset, a layer of weathered copper foil was applied, followed with a toning glaze of FauxCreme® Clear and Dark Brown FauxCreme Color™. The swirly areas were given a punch by applying a silver foil, the same toning glaze and crystals. The crystals were strategically placed to marry the ceiling embellishment with the chandelier.
"AquaStone®'s the Answer to so many decorative textures!"
Applying what you've learned from an industry master is always so rewarding and fun! This next dining room is topped with a finish called Travertine Gold that I was lucky to learn from master artisan and faux celebrity, Mr. Gary Lord. This is an ever changing finish due to how the room lighting affects its shimmer. I began by creating a large footprint, if you will, of a knockdown texture using AquaStone®. Basecoated with Eggplant SetCoat®, foil size, followed by three different foils of Bronze, Bright Copper and Hologram by Gary's Prismatic Studios. Notice how the niches located 20' high in the living room are now dressed with a dramatic elegance!
In this same home, I transformed a kitchen using more AquaStone® to create a skip troweled texture, then basecoated with Basic Red SetCoat®, followed with a toning glaze of FauxCreme® Clear mixed with American Walnut Stain & Seal™.
.
Clients who make you feel at home while you're crafting their personalities via decorative finish designs on their walls are what makes my job so enjoyable! This homeowner let me play my music and requested I turn up the volume! Even the cat, Rosco, greeted me at the door and always made me stop to say hello. This stone archway transformation was my seventh project with this client. He had originally hired a contractor that sprayed a thinned mortar mixed with sandstone, but unfortunately, it didn't look anything like sandstone. After watching my client's disappointment with the quick but not so attractive results, I offered to step in and suggest a fix.
After seeking the advice of FE Dallas in Addison, Texas, on how to deal with products over a sprayed-on limestone, I applied an oil-base primer over the sprayed-on limestone mix, applied a basecoat of Off White SetCoat®, rolled on some thinned AquaStone® and then proceeded to stain/glaze each stone with a combination of various Stain & Seal™ colors, using both full strength and watered down. Other areas of this stone wall were not complete--they had forgotten to include the whole archway which was screaming for some attention.
So Something Creative custom designed stones within the underside of the archway along with wrap around stones leading into the living room by troweling on AquaStone®. I then used tinted (you guessed it!) AquaStone® for the grout areas that completed the look. The homeowner has thanked me probably a dozen times and I quote, "You saved me Susan! I have such a sense of relief when I walk in the door now. You are awesome! It looks so good!!!"
.
Decorative Walls, Ceilings, Furniture, and Sconces? Absolutely! Something Creative can transform old outdated sconce designs made from copper. The only challenge was to use quality products with reliable adhesion that would cover the punched designs and adhere to the copper. After sanding and cleaning, SetCoat® was my hero! I used it as a basecoat before troweling on AquaStone® to fill the holes. Once sanded I applied Metallic Copper SetCoat®, taped off an area creating a copper frame and then troweled Brown Suede and Champagne Mist LusterStone® in a vertical fashion, followed by knocking down with a wet trowel. I then created a center design using Royal Design Studio's Renaissance Tile 709, troweled through some Brown Suede LusterStone® and then kicked it up a notch with some Antique Gold Mica Chips by Donna Phelps. Once again quality products and innovative decorative solutions are to the rescue!
I've been spoiled being within driving distance of FE Dallas. I'm looking forward to living and creating in Wilmington, North Carolina, but will most definitely miss all the wonderful benefits of being near a Faux Effects'® supply and teaching studio. Thank you Faux Effects®! More decorative finishes coming for "shore" SOON!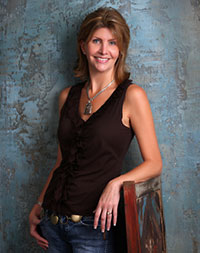 DECORATIVE ART BY: SOMETHING CREATIVE
PHOTOGRAPHY PROVIDED BY: SUSAN KOLESAR
WRITTEN BY: SUSAN KOLESAR
If you enjoyed this article, send
it to your friends on Facebook!