Industry Update
ArtFusion 2016
The second annual ArtFusion event was held in picturesque Estes Park, Colorado, on October 26-29, 2016. Faux Effects International, Inc. was honored and pleased to support the decorative finishing industry as the event's "platinum" sponsor.
This annual, multi-day event/convention for the professional and aspiring decorative painter and artist is designed to celebrate the decorative industry. ArtFusion 2016 featured workshops, speakers, product and tool demonstrations, vendor displays, and lots of networking. Some fun extras included an artist's live auction, a Fauxtini party sponsored by Faux Effects®, live music, and finishing competitions for all attendees. Numerous classes this year included mixed media, decorative painting, decorative concrete, encaustics, business, molds, concrete carving, epoxy art, alcohol ink, furniture painting, cabinets, Italian plaster, and marketing.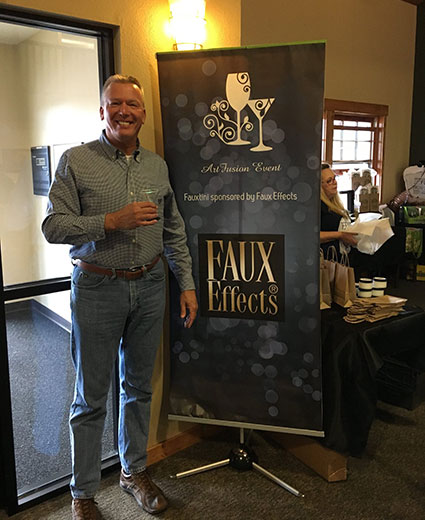 Many thanks go to the founder and event organizer, Kathy Boyd, along with her ArtFusion team, for another wonderful event for the decorative finishing industry…Bravo!
Thank you to everyone who participated in the Estes Park ArtFusion event. It was a fantastic event! --Kathy Boyd, founder ArtFusion
Salon NYC 2017
For the first time ever in its 22-year history of the annual gathering, Salon 2017 is being held in the heart of midtown Manhattan, New York. Salon NYC 2017 will be a four-day live art show featuring demonstrations, lectures, group murals and exhibitions by the world's most talented working decorative artists. The theme of this year's show is Art Deco, echoing the beauty and lines of many Art Deco-style buildings in the city.
Salon NYC 2017 is taking place at the High School of Art and Design, located conveniently in midtown Manhattan within walking distance of subways and easily accessible busses. The High School is a wonderfully spacious location, where the artists can lecture about time-honored traditions of decorative painting, as well as demonstrate techniques and products of the trade.
The show is being hosted by two artists from New York, Arlene Mcloughlin and Jeanne S. Schnupp. Both are owners of successful decorative art companies and avid lovers and participants of Salon. Arlene and Jeanne are very excited to welcome world renowned artists, teachers, business owners and innovators of the industry to this year's Salon, while continuing to uphold the highest standards in decorative painting.
We hope to share in the knowledge of techniques and share with you the beauty and talents of the many artists that will travel to New York from as many at 20 countries.
Salon NYC 2017 will be held from April 13-16, 2017 and is free and open to the public for its entirety.