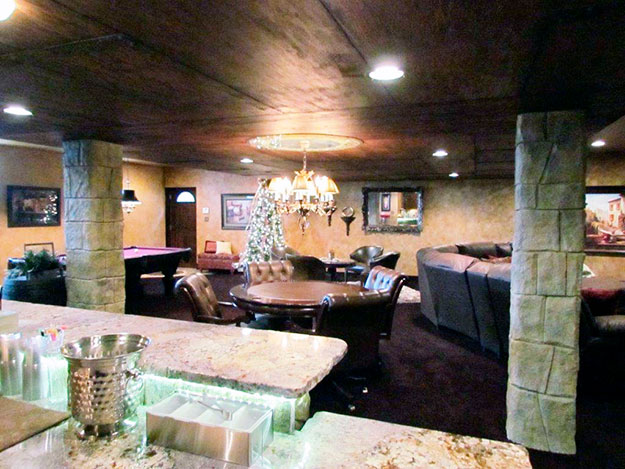 "Ordinary to Extraordinary"
Mike Gasiorowski was in the printing industry for 30 years when he felt it was time for a change. Always interested in stone and wood textures, along with other decorative finishes, he decided to take a class at The Faux Finish School in Louisville, Kentucky in the summer of 2007.
A few weeks after completing that class, Mike started his decorative finishing business, California Faux Custom Finishes LLC. Unfortunately, with the housing market collapse and recession starting in 2008, his contracts began to lessen. "I found that people just didn't want to put any money into their homes, especially faux finishes, which is something a client wants as opposed to something they need, like a regular coat of paint," Mike explains. "So back to the printing industry I went, but I still take on projects that I personally find interesting and challenging."
On one such project, the owners of a single family loved the Old World/Mediterranean style of décor. Since Mike already finished some of the upstairs rooms in the home with FauxCreme® glazes, they asked him to see what he could come up with to hide an unattractive bulkhead in the home office downstairs. The bulkhead…what to do? After contemplating the area, Mike knew exactly what to do. Cutting the drywall in sections, the bulkhead took on the look of large timber beams. Realistic wood grain circles were placed in the ends of the beam running perpendicular to the rest, and step cutting the cross timbers give the illusion of each "beam" locking into each other. To create texture, AquaStone® was rolled on, then back rolled and knocked down with a rubber float. Knots in the wood were created by pushing a chip brush into wet AquaStone®. Keeping AquaStone® unsealed helped the toning stain of American Walnut and Antique Mahogany Stain & Seal™ absorb differently for the desired uneven finish. The size of the bulkhead was huge and needed to be broken up into more realistic sections. It was decided to separate the finish with metal bands that matched those on the doors. The finishing touch to the timbers was adding a cork inserted into drilled holes to give the illusion that the planks being held together with wooden pegs. A final coat of AquaGard™ Dull helped produce the sheen of old wood. The bulkhead turned out so well that the client decided to carry that style throughout the lower level.
Old barn wood is very fashionable these days, but depending on the part of the country, can be difficult to find. Current doors were textured and toned to match old barn wood the client was using for base boards and door frames. After applying an oil-based primer, two coats of SetCoat® Clear were applied to fully seal the wood doors. Panels were measured and taped off. AquaStone® was again rolled on to create a wood texture and combed through to create raised grain. This time, Mike wanted even absorption of stain—sealing AquaStone® with ColorSeal™ was required. After drying overnight, the "wood" was toned with Antique Mahogany, Antique Cherry and American Walnut Stain & Seal™. AquaGard™ Satin sealed the finish for added durability and a remarkable sheen.
Realistic hinges were created with the help of a custom stencil with AquaStone® troweled through for wrought iron-like texture. Once dry, Metallic Bronze Palette Deco™ was stippled on for the metallic element. Metal bands were then made in specific areas with AquaStone®. Bolts were created by cutting Styrofoam balls in half and gluing them to the dried AquaStone®. Then, it was all base coated with Brown SetCoat® followed by Metallic Bronze Palette Deco™ for the perfect metallic look. Additional AquaStone® was pounced on with a chip brush to start the textured rust effect so that the bands would look old, like the timbers. Next came aging all the "metal" embellishments with American Walnut Stain & Seal™ with a touch of Orange FauxColor™.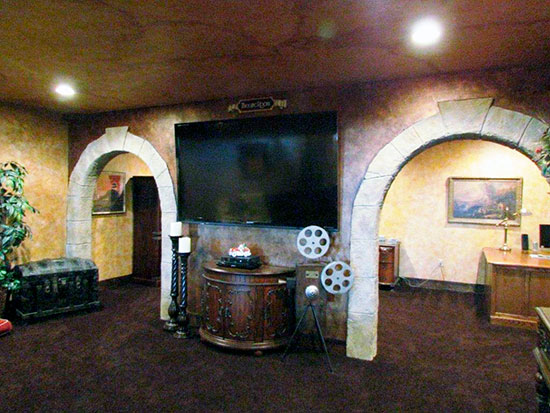 Walls were based with Off White SetCoat® followed with AquaCreme™ glazes using French Red, Yellow Ochre, Golden Sienna and Dark Brown FauxCreme Color™. Mike applied the glazes with a whizz-type roller, and worked them together with a terrycloth towel and a Neon Leon®. The finish was then softened with a badger brushed and when dry, sealed with SetCoat® Clear for added durability and uniformity in sheen.
One wall needed more of a pop. Here, Leather Red SetCoat® was applied as the base of the finish, followed by tissue paper technique using Metallic Gold Palette Deco™ then aged with American Walnut and Antique Mahogany Stain & Seal™.
The fifth wall, the ceiling, was treated with Rich Brown Stain & Seal™ and Dark Brown FauxColor™. Mike overlapped the areas working with a wooly pad to create a water stained effect.
The bathroom was next on the list. Finishing a previously textured finish can be a challenge, but not for Mike. Again, he used Leather Red SetCoat®, followed with Metallic Gold Palette Deco™. Using a Neon Leon®, Mike swirled on Dark Brown FauxColor™ over the finish to age and blend with the decorative finishes throughout the level.
The Wine Room trellis and gate section received an aged, verdigris effect with Metallic Bronze SetCoat® and AquaVerdigris™ color, worked with a chip brush and cheesecloth.
The pillars, archways, base of the bar and wine cellar were done with a vertical concrete mix, then stamped and carved to look like stone. Once cured, the concrete was then colored with various tones of FauxColor™, bringing in a cohesive look with the "new" Old World finishes.
Since then, the client placed their house on the market at a very high price, not really expecting to get what they were asking. As it so happened, the house sold quickly! Mike is currently finishing their new home with some fresh and interesting finishes. Mike says, "One thing about these clients, they are not afraid to take a chance!"
Mike explains, "We at California Faux Custom Finishes have made it our mission to transform any ordinary space into an extraordinary space, to fool the eye and hand, to make you want to touch it and to make you say WOW!"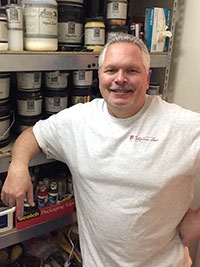 DECORATIVE ART BY: MICHAEL A. GASIOROWSKI
PHOTOGRAPHY BY: MICHAEL A. GASIOROWSKI
WRITTEN BY: MICHAEL A. GASIOROWSKI & JOAN SECKINGER
If you enjoyed this article, send
it to your friends on Facebook!