"Add That Metallic Pop!"
Many of my commissions come by word of mouth, or when someone sees my work in various venues. My next job was no different. When a client discovered my decorative work at a winery, she decided to call me for a few projects in her home. Already in the middle of a renovation, she was excited about the new options I could offer her. A beautiful, textured eel skin wallpaper was already ordered, which was black with smooth silver highlights. Even though the wallpaper had to go up, the ceiling was fair game! I troweled on a basecoat of Metallic Silver SetCoat® then applied Metallic Silver StucoLux™ to add a sleek, sophisticated finish to the ceiling. What an elegant foyer!
The next project in the home involved the master bedroom, and we decided on a focal point wall. This feature wall was measured out evenly, and blocks were created using Venetian Gem® applied by trowel. While wet, a wallpaper brush was then pulled through the Venetian Gem® to create horizontal and vertical texture on alternating blocks. The blocks were then retaped when dry and were painted with Charred Platinum Designer Metallics™. To create a more modern edge, the blocks were then top coated with Varnish Plus™ in a gloss sheen. The remaining walls were painted with a complementary color, Royal Taupe SetCoat®. The vanity in the master bathroom got a modern update with Charred Platinum Designer Metallics™ also, keeping an even flow with the master bedroom feature wall.
Black and White Done Right! My client has quite of a lot of art she had collected over the years. In order to allow her art to stand out, the dining room walls were finished in Ebony Frost LusterStone®—a great backdrop for her collection.
She requested that I make the built in cabinet "disappear," so it was painted a custom color to match Ebony Frost. All of the ceilings and trim had been painted in bright white, and with the black walls and cabinet, the end result is gorgeous drama!
We all are very happy with the results. The home turned out gorgeous!
Interestingly enough, since then, this client just contacted me to do some more work in her home. My suggestion will be the new architectural product from Faux Effects®, Galaxy Stone® in Charcoal!
Leanne Swetlik of Interior Impressions, LLC and You-nique Finishes by Leanne has been creating tried and true finishes for over 15 years for old and new clients using Faux Effects® products. Initially self-taught, she refined her talents at The Finishing Source in Atlanta, Georgia. "The moment I walked into the studio, my decorative painting career changed!" explains Leanne. "I gazed around the studio in awe of the stunning finishes so artfully displayed, and I could not wait to get started!" Leanne also has received training at the FauxMasters Studio, The Finishing School, Prismatic Painting Studio and Faux Design Studio. Always up-to-date on the latest trends, Leanne attends annual and regional IDAL conventions, where she receives additional training from Faux Effects International, Inc. instructors from throughout the country.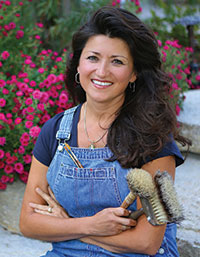 DECORATIVE ART BY: LEANNE SWETLIK
PHOTOGRAPHY BY: LEANNE SWETLIK
WRITTEN BY: LEANNE SWETLIK
If you enjoyed this article, send
it to your friends on Facebook!