"An Authentic Signature"
Native Israeli, Benny Moshe, is an innovative artisan and decorative finisher who combines the use of decorative plasters, both smooth and textured, to create finishes in a rustic-natural style of stone and wood, and eye catching contemporary metallic accents. He keenly follows international design trends and brings them back into his homeland projects. This "natural" style of finishing, and the use of metallics are very prevalent design trends at present.
Benny's career path started fifteen years ago, when he started in the construction field building all types of structures. He focused learning all its aspects as time passed. During this period, Benny was exposed to the power of color and its effect on a project's overall vision, which brought him to his current occupation—artist.
In his younger years, Benny was an avid soccer player who always remembered his coach's "wonderful life wisdom—to be a good player, you have to use your both feet exactly the same," he says. Benny implemented this wisdom into his current professional life, by using both hands equally while working on his art pieces and decorative finishes. A truly skilled craft!
Throughout Benny's decorative career, he actively looked to advance his skills by learning new techniques and methods from different artists with various mediums. While always absorbing new found knowledge, Benny created his own unique style that clearly distinguishes him from other regional artists. Always on the quest to search to find new materials to include in his works, he tried various European vendors but then found his way to the US and Faux Effects® products by the use of social media.
It was about three years ago, while searching the world-wide web, Benny first was exposed to Faux Effects® products when he saw an artist using them upon uploading a YouTube video. "I was impressed with this artist's finishes and the materials he used, and I decided I had to try them," he explains. Immediately, Benny contacted Faux Effects International Inc. and explained his desire to use Faux Effects® products for projects in Israel. He further explained his skill and expertise by sending numerous details and photos of projects he had done in the past. Upon review, FEI was pleased to welcome Benny into the Faux Effects® family! Benny was so excited to start experimenting and to create new finishes. Promptly, he purchased a variety of Faux Effects® products to explore; all with the thought of how best to implement them into his finishes and artwork. Since then, his commissions have expanded by leaps and bounds—all due to his immense talent and the use of Faux Effects® products. Talk about the power of social media! It is truly a small world!
Currently, the appearance of concrete in homes is a very fashionable and sellable wall finish worldwide, as well as various metallic wall and faux wood finishes. Benny uses a variety of Faux Effects® products, including AquaStone®, Venetian Gem®, FauxCreme®, FauxCreme Color™, LusterStone®, SetCoat Metallic™ and SetCoat® Clear to achieve these designer trends in many areas of Middle Eastern homes.
Benny also creates truly one-of-a-kind art pieces using a multitude of Faux Effects® products, including Venetian Gem®, CrackleMate™, FauxCreme®, AquaSize™, FauxCreme Color™ and FauxColor™. His artwork is characterized by applying layers upon layers of various Faux Effects® products, which then create complex bands of textures and mediums. "Then, I start with small nuances, using FauxCreme Color™ or FauxColor™ until I get to the full picture that I painted in my mind beforehand," says Benny. "I try to look at my art in the contemporary perspective combined with antique touches, without losing my authentic signature."
Benny Moshe's authentic signature has been penned on many homes throughout the Middle East as well as in the US, and will cross the globe further with the use of digital media. Keep your eye on this up and coming artist, there's more to come from him near you!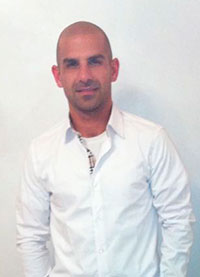 DECORATIVE ART BY: BENNY MOSHE
PHOTOGRAPHY PROVIDED BY: BENNY MOSHE
WRITTEN BY: BENNY MOSHE & SANDRA TAYLOR
Click Here to Read this Article in Hebrew
If you enjoyed this article, send
it to your friends on Facebook!